STRECKEN UND DISZIPLINEN GIGATHLON CZECH REPUBLIC 2018
Gigathlon Czech Republic wird das erstemal in Nordböhmen in der Region Ústí nad Labem stattfinden. Zentralort für das Jahr 2018 ist Labe Aréna in Račice, das Nationale Olympische Wassersportentrum. Hier fanden in 2017 unter anderem die Ruder-EM sowie die Kanu-WM statt.
In September 2018 wird aber in Račice und Umgebung eine anderes Spektakel stattfinden. Auf alle Teilnehmer wartet innerhalb der zwei Wettkampftage insgesamt 315 km Strecken und mehr als 4 345 m Höhenunterschied. Die Gigathleten absolvieren jeden Tag alle fünf Disziplinen in anderer Reihenfolge, neu ist im Angebot ausser dem klassischen Weekend Gigathlon auch die neue Variante 1-Day Gigathlon. Mehr zu den einzelnen Kategorien HIER.
Die Strecken bringen die Teilnehmer in die schönsten Ortschaften der Region Usti nad Labem, besonders ins Böhmische Mittelgebirge. Die Samstagstrecken führen aus Račice nach Most und am Sonntag bewegen sich alle Teilnehmer in der Umgebung vom Zentralort Labe Arena. Alle 10 Etappen sind originell und führen durch verschieden Orte, besonders die Samstagsstrecken werden sehr sportlich und anspruchsvoll sein. Der Sonntag wird der krönende Abschluss eines sportlichen Wochenendes sein mit einer tollen Atmosphäre und Wechselzonen direkt im Zentralort.
Note: Version as of May 30th, 2018. Tracks can be changed and updated.
Our first discipline in 2018 will be ROAD CYCLING. The cyclists will be honoured to launch a weekend sports challenge by mass start at 6:30 in the morning. They will embark on a varied pilgrimage across the Ústí region from Račice to the surrounding of Most. On the way there is a flattened part of the route through Roudnice nad Labem, around the castle Hazmburk and along the Třebívlice wine region. From there, the route begins to change its profile and competitors will find out that the Central Bohemian Mountains have their hills. The views of the landscape will be really beautiful, the route will take participants around the highest mountain of the region – Milešovka and then will slowly approach the final destination at the Matylda Lake by the city Most, which will become the main logistic centre of Saturday race.
SWIMMING section with a length of 3 kilometres across Matylda Lake will be the second discipline of a day and will be followed by IN-LINE SKATING. A 4 km long loop around Matylda Lake with a very good asphalt surface, will be ridden 7 times by the in-line skaters.
As a third discipline will start their journey MOUNTAIN-BIKERS who will disappear in the forest straight away, where this rather demanding 42 km long track begins. Compared to Sunday's track is the Saturday's one quite technical with few single tracks including proper switchbacks on the way. Extreme blast will have bikers who enjoy "surfing the dirty trails". After the round around local peak called Ressel, bikers will hit the road direction Matylda.
The relay will be taken over by the RUNNERS as a last Gigathletes of a day. They can expect an attractive 16 km long track that will bring them up to the castle Hněvín and back to Matylda Lake.
The atmosphere of the first day will culminate on the Matylda Lake by the cheering until the last competitor will reach the finish line.
The logistic of the race will be sorted by the shuttle buses from Matylda and back to the central place Račice. This place will offer a well-deserved rest and energy for another racing day.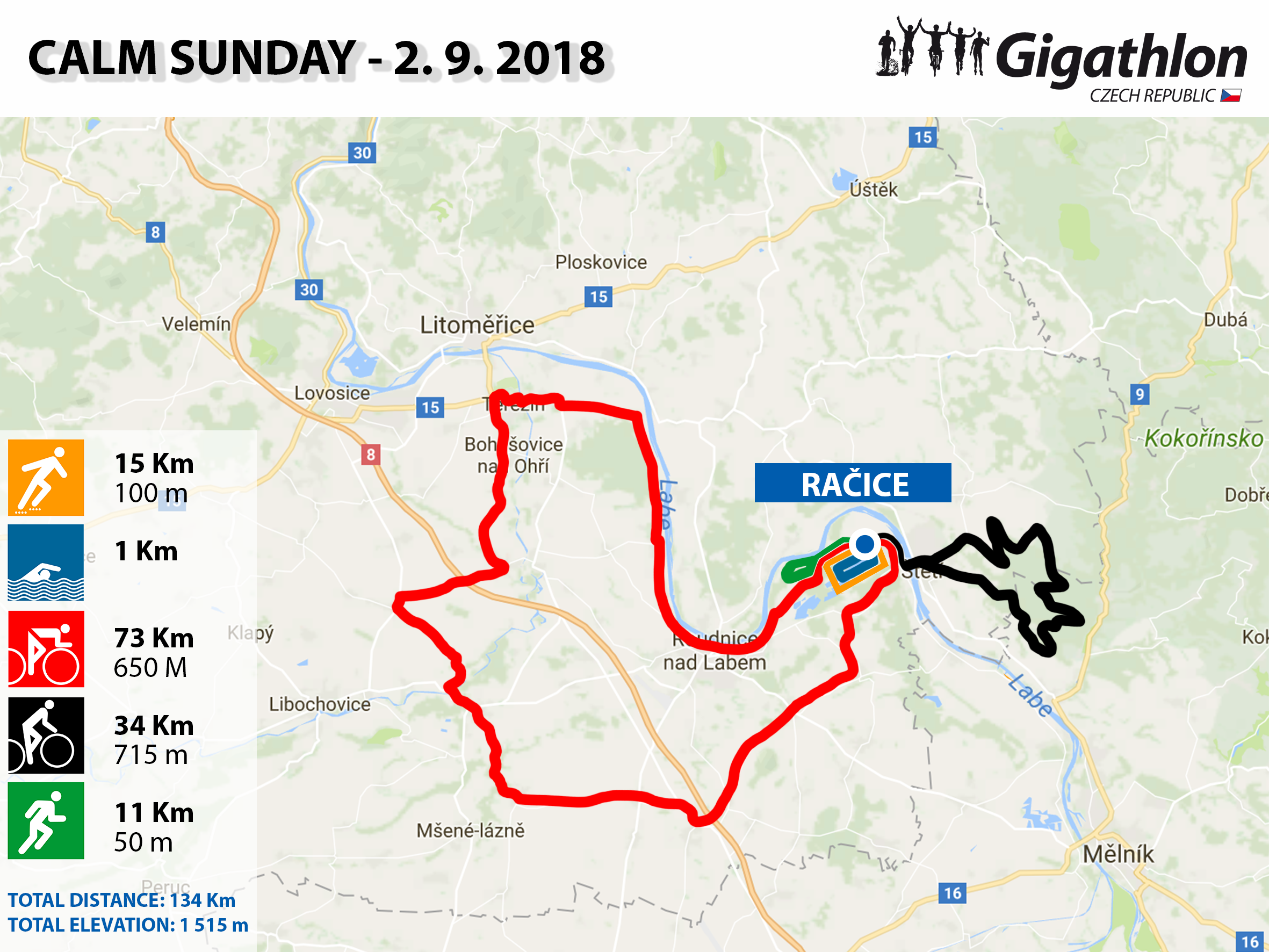 Note: Version as of May 30th, 2018. Tracks can be changed and updated.
The Sunday concept is based on the experience of the first two editions - our goal is that the Gigathlets can enjoy the team spirit as much as possible. The Sunday routes will not be as long and demanding as Saturday's. More emphasis will be placed on the attractiveness and the interesting places on the routes. Shorter distances will be as well very convenient for our fans. The surroundings of Labe Aréna Račice will be properly explored by swimmers, in-line skaters and runners. On the other hand the road-bikers will get far to the junction of rivers Labe and Ohře in a historical town called Litoměřice. Mountain-bikers on their wavy route will get to see a local scenic villages as well as colourful fields and forests.
Through the day the Labe Arena Račice will be used like a central starting and final point. All Gigathletes can expect a great atmosphere and an unforgettable sporting experience whether they are on the route as Single, Couple or part of the Team of Five.
Have a look in our photogalery of TEST TOUR I, that took place in Račice/Most last weekend in April.