WEEKEND GIGATHLON
Safety is a priority therfore this year we are going to simplify logistics and lower the spread area entered by gigathletes. Therefore there will be similar courses on both competition days.
FURIOUS SATURDAY will kick off at Baraba with the swim course. Swimmers will circle 1km long round twice in crystal clear water of the quarry. Next one on the course inline skaters will copy last year inline course from Mělník (Baraba) to Počaply and back direction city centre Mělník. Last short part will be going up hill up to the point, where 500 m before the finish line, due to health and safety inline skaters will have to swap inline skates for the running shoes and run (carrying their skates) the last part to the main square. Mountainbike will start at the main square square in Mělník. 1 round of 46 km across Kokořínsko will be spiced up by technical passages. Bikers will hand over the relay on the main square to cyclist. They will as well head back to Kokořínsko. After one round of 61 km through a quiet nature they will hand over the relay to runners back on the main square. They will run 2 times 8,2 km long loop with the scenic views over Mělník, which will be the great end of the first day.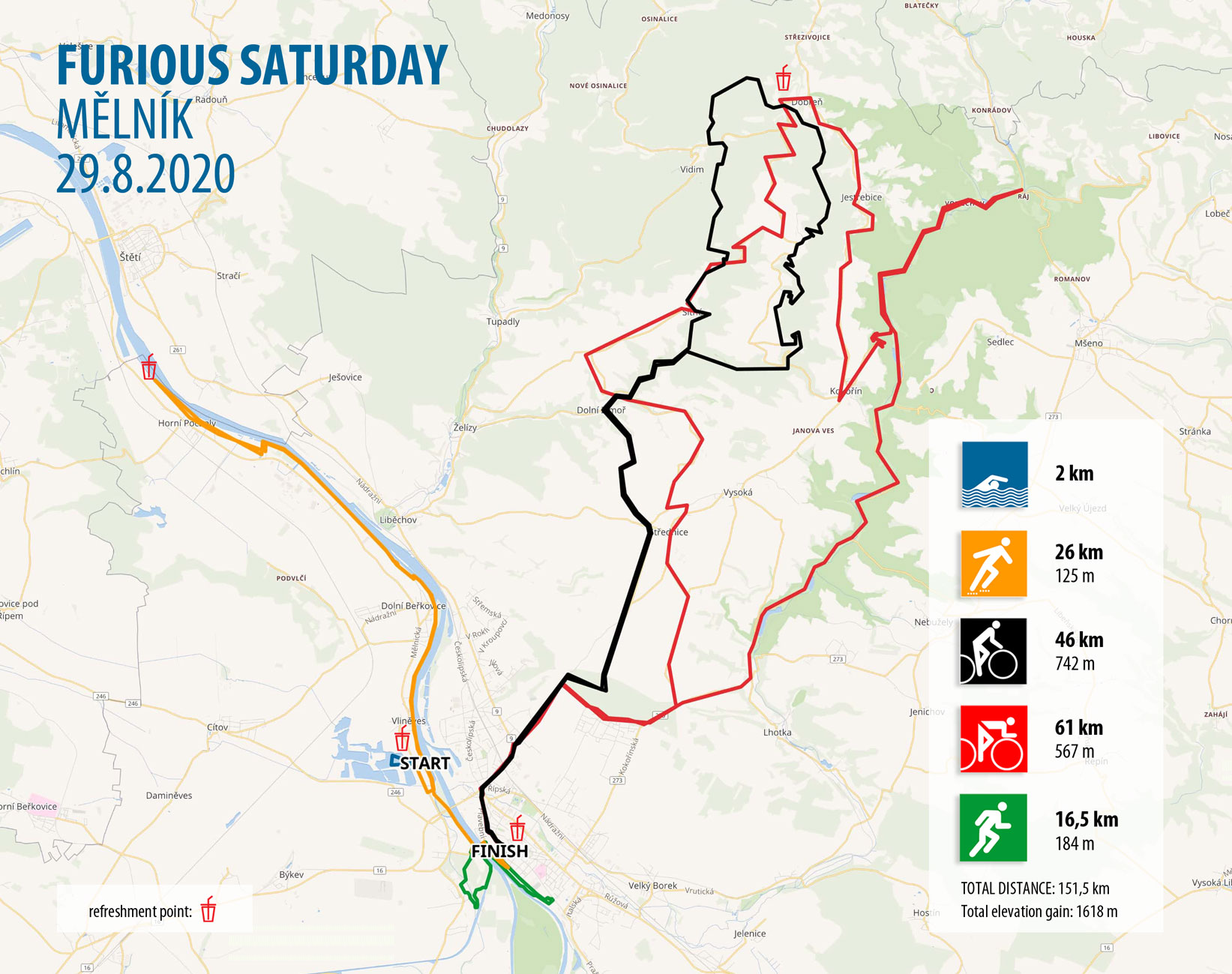 Note: Version as of August 13th 2020. Courses can be changed and updated.
CURIOUS SUNDAY starts on the main square with road bikers as the first on course. They will ride shorten round of the previous day course 46 km and meet up with swimmers at Baraba quarry. Swimmers will copy 1 Saturday's loop. Inline skaters will head as well the same direction as on Saturday, but turn back sooner, again as on Saturday 500 m before the finish line, they will swap their inline skates for running shoes. Bikers will have less elevation gain demanding course. They will not leave Mělník and ride 5 times 4.75 km loop close by castle Mělník. That means they will have to ride through the finish line on the main square 5 times, what is going to make a great exciting atmosphere. After they will catch up with runners, who will after 1 Saturday's loop finish the Gigathlon Czech Republic 2020.
Note: Version as of August 13th 2020. Courses can be changed and updated.