ATHLETIC SATURDAY 28.8.2021 | 160 km
ATHLETIC SATURDAY will kick off at Baraba with the SWIM course. Swimmers will circle 1.1 km long round twice in crystal clear water of the quarry. Next one on the course INLINE SKATERS will copy last year inline course from Mělník (Baraba) to Počaply and back direction city centre Mělník. Last short part will be going up hill up to the point, where 500 m before the finish line, due to health and safety, inline skaters will have to swap their skates for the running shoes and run the last part to the main square. (Inline skates has to be carried while running or picked up by team mates.)
Third on course, but first starting from the main square will be CYCLISTS. They will cycle direction and around landscape protected area called Kokořínsko. They will copy course from 2020 but can look forward to an extension of 10 km, what bring them in total to the 71 km long course.
Relay will be handed over back on the main square to RUNNERS. One 8 km long loop through the city and nature with the scenic views over Mělník will run athletes on the first day twice. As the last ones on the course will MOUNTAIN BIKERS dive back into the landscape protected are Kokořínsko, where they can look forward to the scenic course through rocky path with some technical passages. Their 45 km long course as well as first competition day will finish back in the city center on the main square.
Check-in: Friday 16:00 - 19:00
Start: Saturday 7:00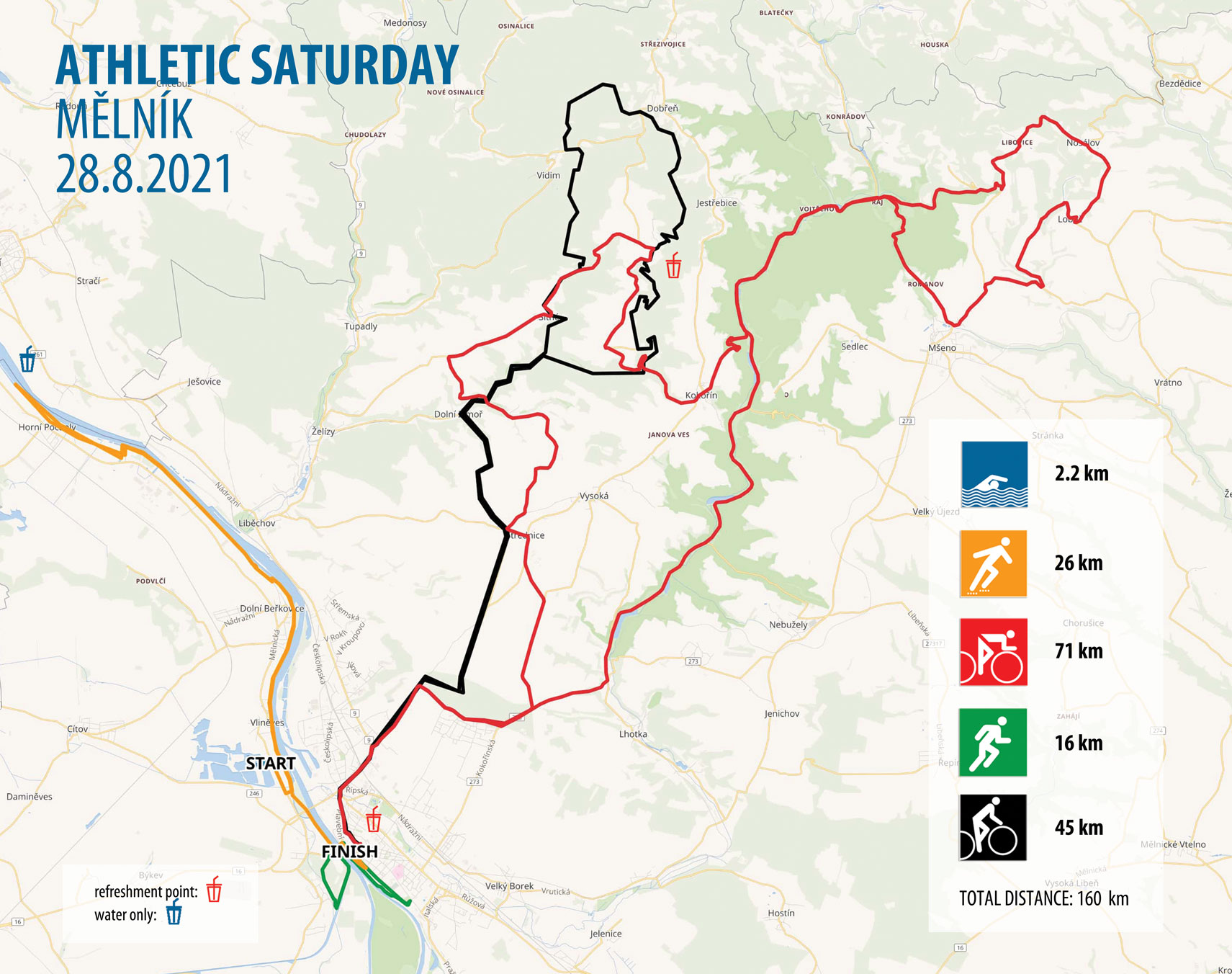 Note: Version as of June 20, 2021. Courses can be changed and updated.
ATHLETIC SATURDAY GPX FILES TO BE DOWNLOAD HERE